Friday my mom sent me a care package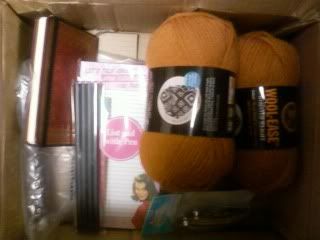 Isnt it so sweet of her?
It took me a couple of weeks, but now I finally have the yarn to finish my Pizza scarf! Also in it is a small notebook/journal very fancily handcrafted, some rhinestone studded pencils (from micheals!) a vintage notepad and pen set, and some more hair barrettes. She also sent a note about how much she misses having a daughter she can but artsy stuff with. <3 I miss her up here.
I am also beginning my venture into a dress design based on the Retro Nautical Dress on cut out and keep by Hana!
http://www.cutoutandkeep.net/projects/retro-nautical-dress
Its a pretty looking dress, and I figured for my boyfriend's next visit it would be fairly appropriate :) I was going to sketch it out after housework tonight then begin planning it out, Hopefully if I dedicate myself it will be made by the time he gets here.
Sitting through the last 40 minutes of the "Good Burger" Movie (absolutely LOVE that movie! Watch it everytime it comes on) I developed a special coffee/tea cozy for a swap I am doing! take a look see!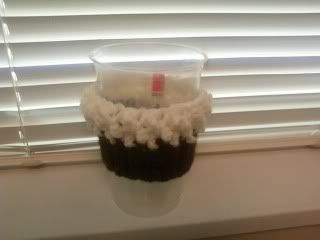 All the bubbles!
I used one of the stitches in my book for the top. It supposed to roughly look like a cup of coffee with foam covering the top. If not a very textured cake. :) I am taking an extreme liking to adapting multiple textures to a peice, this is a good small scale start.
Tomorrow night is the Oscars! Big night for a lot of us :) we were planning on having a party but depending on my schedule I might be bellydancing that night. If not, this would be a definite evening of crafting fun!
So tell me, is anyone else crafting during the oscars? What are you doing?