So for the past couple of weeks I participated in a Crafters Swap (my first EVER!) with a woman in Hawaii. 5 days later, her gifts to me finally arrived!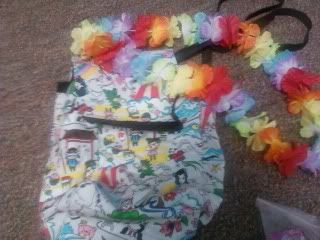 Handmade bag and a lei! I am in love with the fabric (last time I checked is called "Kawaii" Fabric) and might actually ask her to just ship me more of it! The lei is now on the neck of one of my teddy bears!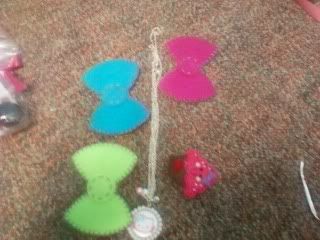 More of the handmades! A bottle cap necklace with my pearl obsession : D and my headpeice obsession, 3 hello kitty bows! The cupcake was the cutest touch!
School supplies! Notebook, pens and pencils, an eraser, some envelopes and stickers! Im 14 again! : D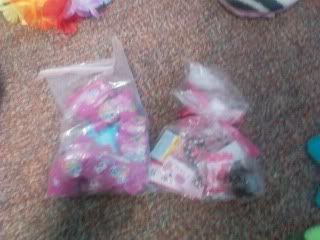 and the coup de gras, CANDY!
All and all I wrote her a good review! I just hope mine will be worthy of one too! Im definitely going to do more of these swaps in the future.
Yesterday I went to Joann where my roomie works and found a book called "Cowl Girls." I am obsessed with cowls lately, and even though it was a knitting book, I found a lot of inspiration for some crochet stuff. I could do one straight cowl with different colors, I could make it twice as long then fold it in half for a pocket, make a large chain, or even put an ipod case on it! In the end I didnt get the book, but it is no doubt on my birthday list with "big girl knits"
So this led me to do my next WIP, an autumn cowl! I'll use the yarn for my pizza scarf and got some earthy green to make a flower pin and some leaves to tack onto it! The colors blend enough that it would definitely be no problem to work on it!
All and all this has been a wonderful beginning to my spring break and I definitely cannot wait to work on everything!
Love and kisses!
There are a lot of